The Road to Recovery eReport
In developing many of the reports for Rakuten Advertising, it was important to manage various teams' objectives while balancing the overall brand identity and integrity. To minimize the go-to-market timeline while maximizing resource efficiency, an effective strategy was to design the reports into multi-functional sales enablement tools – by making them proportional to presentation formats. This provided the sales team with greater flexibility working with prospects and supporting client services teams to share the insights with existing partners – providing added value.
Task
Develop a regional ereport that utilizes a vast amount of data and insight into a format that is visually compelling and is compact, maintains resolution and a reasonable file size for digital delivery.
01 // Creative Strategy
Maximize efficiency by designing in a multi-functional scale for digital distribution and presentation format.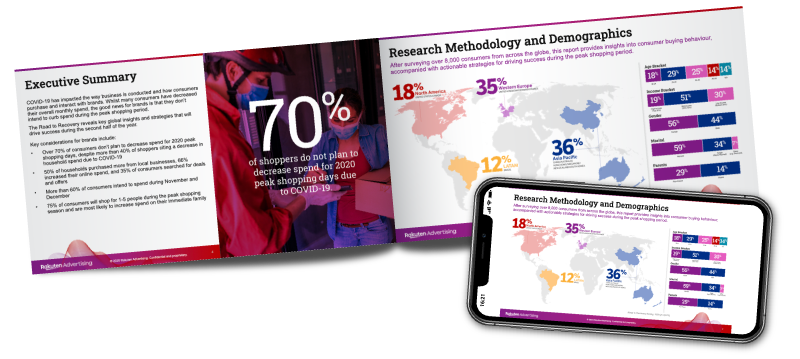 02 // Sales Enablement // Rakuten Advertising EMEA Region
The Road to Recovery eReport
This report was specifically designed for the International marketing team – mainly covering EMEA (Europe, Middle East, and Africa), Asia-Pacific, highlighting consumer data and insights in EMEA and other global markets (13 in all).
The report can be downloaded from the Rakuten Advertising UK Resource Centre.
03 // Go To Market
Distribution by the numbers.
The COVID-related cancellation of in-person events limited distribution to the website, email, and client presentations.
The original version was translated into French, German, and Portuguese. Additionally, it was anglicized to U.S. English for the American market.
The primary distribution area for this report was the EMEA (Europe, Middle East, and Africa) and Asia-Pacific regions.
Complex data sets, some based on the same formatting but all varying, required deep attention to detail.
06 // Let's Create
Ready to

talk?